October 17th, 2017
I did very good sending my gift days ago lol. So far it's the best gift he got lalalallala
What is not so nice is that he had a very shitty day at work. Everything in the lab got broken, literally everything, and he didn't know why. Last weekend his coworker made an update in the code and he left for vacations. Yesterday it was working fine but today it was the hell. Michael got pissed, frustrated and very stressed. I couldn't say anything to cheer him up
My day is meh. I woke up tired and I dealt with a lot of things at work. In some point of the day it was hard for me to breath, maybe because weather. Last days are hot and sunny, 22+, but it says tomorrow it will be rainy.
After work I went to the greengrocery and I bought a lot of vegetables and fruits, I really wanted to buy everything there. The seller told me "Girl, you are not going to walk with all those bags, are you? It's heavy!" I said "Don't worry, some workout is always good!" and I walked 4 blocks carrying almost 20 pounds lol
But look all what I got!!! my fav fruits: blueberry, strawberry, pineapple, kiwi, banana.... the apples are sooooo sooo red that I had to buy them. And I got asparagus!!!
Ok I know I sound crazy
, it's just vegetables and fruit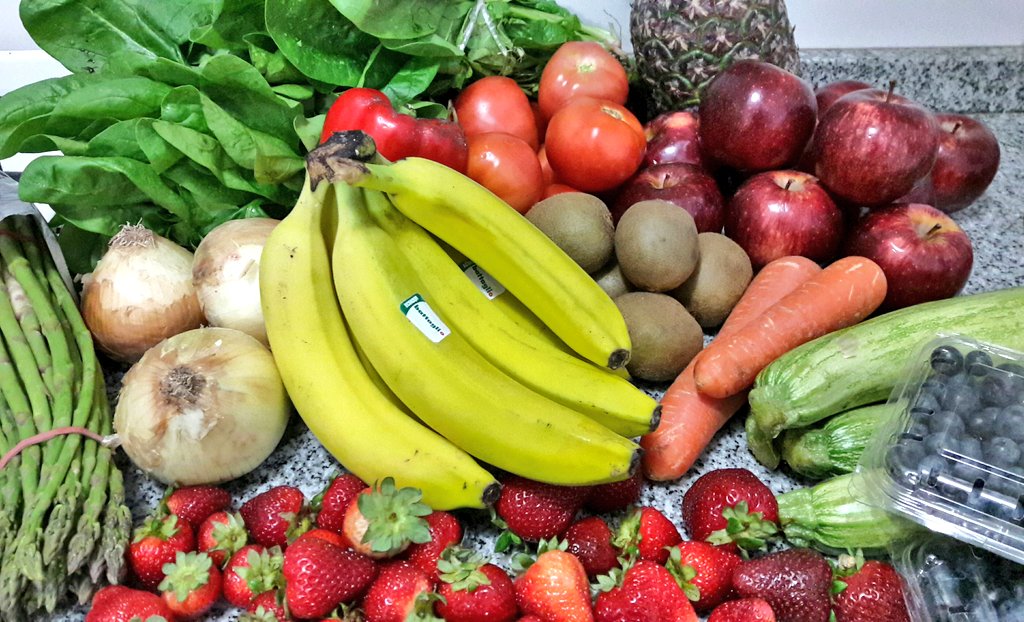 For dinner I had a salad with tomato, spinach, carrot, olive and obviously asparagus. I added olive oil and sesame seeds.
Then I ate fruit and as usual after each meal I drank green tea.
Now I'm on the bike and probably I'll study programming
Today is Michael's birthday and I almost forget it!
Current Mood:

okay